Adan Ltd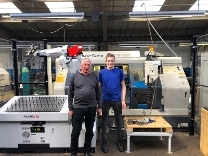 About the business
Boston-based Adan Ltd is the UK's only manufacturer of low-speed high torque hydraulic orbit motors, reduction gearboxes, brakes and associated products. Founded in 1968 by Eric Percival, the business supplies to a broad range of industries including agriculture, civil engineering, marine, mining and more.
The challenge
Although business was steady for Adan Ltd, Managing Director Steve Plaskitt saw an opportunity to grow the business by investing in automation. As the equipment was loaded manually by a machine operator, this limited productivity. Although there were multiple operators responsible for 3 to 4 machines at a time, there was still a limit to what could be achieved during an eight-hour workday. After identifying a machine loading robot that could load the equipment automatically, Steve began to look into funding opportunities to help shoulder the expense. After hearing about Grants4Growth through his local business adviser, he got in touch with the team to see if Adan Ltd was eligible for funding support and was awarded a grant of £19,880 towards the purchase.
The solution
Since purchasing the machine, Adan Ltd's productivity has increased by 266%, as well as reduced costs and allowed the business to offer its products and services at a more competitive price. The machine can not only load and unload the equipment faster than is possible physically, but can also work out of hours, dramatically increasing productivity. This has also allowed for skilled staff to be redeployed, increasing productivity elsewhere in the business. And thanks to the additional capacity created by the machine, Steve is looking to hire a new member of staff to manage the increase in sales.
What's next for Adan Ltd?
Steve has been so impressed by the benefits of the machine, he's decided to purchase another one, so Adan Ltd can continue to increase productivity and grow the business even further.
Steve said: "The machine has massively increased our capacity - it's been an absolute eye opener!
"Without support from Grants4Growth I never would have discovered the benefits of automation. It's made our business more competitive and allowed my skilled employees to take on my complex jobs - it's been a game-changer!
"I would highly recommend Grants4Growth to other businesses searching for funding support."