Bullet Engineering Ltd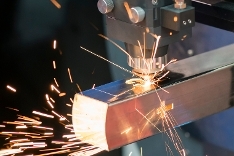 About the business
Founded by Chris Harvey and Alan Sands in 1987, Spilsby-based Bullet Engineering began as a part-time, family-run business servicing the caravan and motorhome industry. However, as the area's tourism and leisure sectors grew, it wasn't long before their part time operation turned into a fully-fledged precision sheet metal engineering business.
"It began with a request to make steps for a caravan veranda and ended up becoming a business!" said Sue Harvey, Bullet Engineering's Managing Director.
Over the years, Bullet Engineering continued to grow, thanks to their reliability and their competitive pricing, adding an extension to their factory in 2015.
The challenge
Although Bullet Engineering offer a wide range of services, they lacked the equipment required to complete all of the production in-house, resulting in them often having to travel to Grimsby or Spalding to complete paint jobs. This added both time and cost to the production process and sometimes increased lead times by as much as a week and a half.
How they got the grant
Sue discovered Grants4Growth via an email from South Holland District Council and immediately contacted the team in Spalding. She was surprised by how simple the process was, and within two weeks the business was offered a grant of £20,640 towards the cost of buying a new powder coating and degreasing system.
The solution
The new equipment means that Bullet Engineering can now de-grease and paint items in-house, instead of outsourcing to other businesses. This has shortened lead times and allowed them to become self-sufficient. It has also allowed them to grow their team by employing a new member of staff to operate the new equipment.
"The process was quick and easy. If you get the opportunity to apply, do it!" said Sue.
"We're delighted, the machine has not only reduced our costs, but allowed us to lower our prices and become more competitive by passing savings back the to our customers."
What's next for Bullet Engineering?
Despite COVID-19, Bullet Engineering hopes to keep on growing in 2021. They aim to add a new process to their roster of services and begin working with tubing as well as flat sheet metal. This will allow them to expand into creating items such as crash barriers, bars and gates, which they have received requests for from customers and will lead to further growth opportunities for the business.